MAGS | INTELLIGENT MAGNET INDUSTRIE 4.0
MAGNETS INDUSTRIE 4.0
The innovative Force Reading System automatically compares the load weight and the magnetic force, authorising the handling when in full safety conditions.

The operator can work in complete confidence.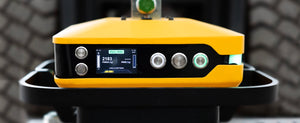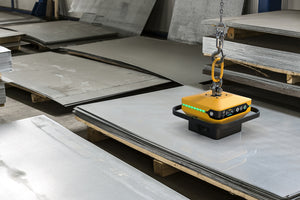 GRAPHENE BATTERIES
Mags lifts are powered by graphene supercapacitors. Supercapacitors are lightweight and efficient batteries that, compared to nickel-cadmium or lithium ones, require no maintenance and can be charged in few minutes.

They have a useful life of 10 years under normal use. They also do not overheat: no risk of explosion. Even when the batteries are discharged, the load is retained, in total safety.
SAFETY WITH NO COMPROMISES
The ADS Anti Deactivation System lets possible to activate MAG and DEMAG cycles only when the load is on the ground.

With the radio control, the operator always works at a safe distance from the load. The shatterproof steel control panel is backlit with high-intensity LEDs for greater visibility. The status lamps are visible at 360°.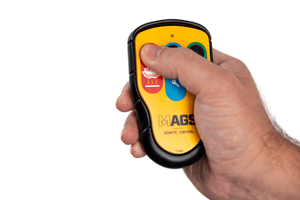 EXTERNAL CONNECTION INTERFACES
Modbus RS-485
Digital I/O
Ethernet - Modbus TCP/IP (Industry 4.0 compliant)
SAFETY SYSTEMS
Built-in load cell
Real-time magnetic force reading sensor
ADS: Load release prevention system
Cycle log - time and number of activations
OPERATOR INTERFACES
3.2" TFT graphic display
Backlit buttons with tactile feedback
360° LED bar with status indications
Radio remote control (on request)
OTHER FEATURES
10 selectable magnetisation levels for different load thicknesses
Battery status indication
Protection and handling handle
Serializable for modular compositions